Futures Market
Take a look at my Daily Photo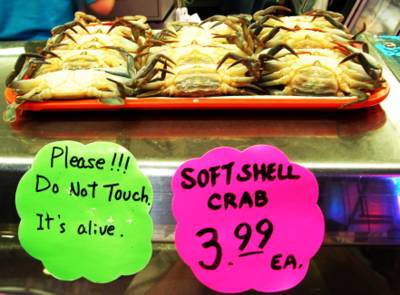 The Food section of today's
Philadelphia Inquirer
lists their predictions for the
top 20 food trends
of 2005. And I know you're just dying to see what I think of them.
1. Chocolate, the gourmet health food.

It's about time something that tastes so good is actually good for you. Dark chocolate, which is at least 70 percent cocoa, is a source of polyphenols, the antioxidants in red wine and green tea that help keep plaque from forming in arteries. It also contains flavonoids, which make blood platelets less sticky and are thought to lower blood pressure and LDL, or bad cholesterol. Look for artisanal and varietal chocolates touted for their subtle taste distinctions (as are single-estate wines and coffees) and for candies laced with offbeat flavors such as green tea, black pepper and beer. And yes, there is also chocolate-flavored beer.
Liz Applegate
, Runner's World magazine's resident nutritionist has been saying "
chocolate is good for you
" for a long time. But it's only good for you in moderation, and I have never ever in my life eaten chocolate in moderation. Plus these "healthy" chocolates are being sold to an American audience (like me) who think that if something is healthy (like low-fat ice cream), you can eat twice as much.
As for chocolate-flavored beer, no thanks. I'll stick with the subtle chocolate taste of my
stouts
.
2. Fast food with style.

Fast-food chains are lightening their menus, proving that fast needn't mean overprocessed, oversalted, and full of fat and empty calories. Decor is being upgraded, too. A McDonald's opening in Chicago this year will offer wireless Internet access and a hangout atmosphere. The resurgence of neighborhood restaurants with character, regional foods, and casual fare that is fresh, well-executed, and familiar enough not to be threatening also continues.
Please don't tell me that fast-food joints are lightening their menus when 2004 saw
McDonalds
introduce the deadly
McGriddles
and places like
Hardee's
start selling
half-pound burgers
with 73 grams of fat.
I have noticed a rise in neighborhood restaurants around me, but most are still not family friendly. It is nice to have more options on date-night.
3. Affordable luxuries.

Starbucks is often credited with starting the "small indulgence" trend. Other small food splurges are vintage wines, premium vinegar, a catered meal, or the Kobe beef and foie gras found these days on more restaurant menus.
A catered meal would be nice, but if I were paying for it I'd rather get out of the house. You can keep the rest of that "luxury" stuff. If I'm going to spurge, I'll take premium olive oil over vinegar and a good
high-priced ale
over vintage wine.
4. Ethnic regions.

Upscale Spanish and Mexican dishes lead the current ethnic taste trek. But foods of distinct regions are getting more attention, too. We've feasted on the foods of Provence, Hunan and Sicily. Next up? Recipes unique to Galicia, Barcelona and Oaxaca.
I've got a
BA in Geography
and I still had to look up where Galicia (Spain) and Oaxaca (Mexico) were. Since I've been on my Mexican/Cuban kick for a while now, I'm willing to try some other Chicano/Latino/Hispanic flavors.
5. Small plates.

From Spanish tapas to Chinese dim sum and Greek meze, small portions are becoming a big deal. With their presence on menus increasing, small plates also feed into the quick-dining trend. The lounge at Tangerine in Old City has introduced an all-meze menu and, at Brasserie Perrier, executive chef-partner Chris Scarduzio says he is concentrating more on flavor and less on portion size because customers are eating less. "Small plates are great for young professionals on the move who don't have time to sit at a table for two hours," Scarduzio says. Along with mini meals come cupcakes and other mini cakes, the hot option for wedding receptions as well as for everyday snacking.
This is great. I just hope that these restaurants give smaller prices to these smaller plates. Otherwise it's just Nouveau Cuisine all over again.
6. Carb comeback.

"Good" carbs, including fruits and vegetables, are back in the good graces of dieters. Carbs are the body's most efficient fuel. The good ones break down slowly for steady energy. Sugar carbs quickly turn to glucose, with the excess stored as fat.
As a runner I never left carbs. I hope that 2005 is the year that the whole carb-diet thing finally dies. Just watch what you eat folks, you'll lose weight. The low-carb thing has bastardized so many foods, just like what happened when low-fat labels ruined everything.
7. Whole grains.

These nutrient-rich carbs were surely missed by many low-carb dieters deprived of their morning Cheerios. Now they're back and will take center stage when the U.S. Department of Agriculture lists them as a key element in a healthful diet in its revised Food Guide Pyramid, to be released this month. Look for more whole grains in processed foods, from cereals to prepared meals. Average adult consumption is just one serving a day, well under the government's recommendation of three a day.
I'm very good about eating my whole grains, but if they start putting it in my kids' cereal that would be great. Just don't put
Splenda
or any of that other crap in there with it, like
General Mills
has been doing with their
low-sugar cereals
. I don't want that stuff in my kids system.
8. Convenience.

When Gourmet magazine touts dishes to make ahead on Sunday for a week's worth of heat-and-eat meals, you know times have changed. Everyone wants more convenience in the kitchen. The NPD Group, a market research firm, reports that half of American cooks are putting dinner on the table in 30 minutes or less, often by eliminating side dishes and even desserts, which are now served after only 14 percent of at-home suppers.
We're real guilty of not serving side dishes, but we make up for it with dessert. The
Inquirer
could make it easier on working parents by making the recipes in their "
Rush Hour Gourmet
" column a little simpler and more kid-friendly.
9. Organics.

Sales have risen more than 20 percent annually for a dozen years, reaching an estimated $15 billion in 2004, with more than $32 billion projected by 2009. The fastest-growing segments are meats and poultry (sales jumped 78 percent in 2003) and snack foods (up 30 percent). There's even organically farmed fish. If you blinked, you may have missed organics also slipping into the mainstream of packaged goods, canned foods, meal kits, and baking mixes.
I try to buy organic, but they're killing me with the prices. Thank God for
Trader Joe's
. Affordable organic food, go figure. Now if they would just open one a little closer to me.
10. Functional foods.

Food has become the new wonder drug as researchers unlock the secrets of phytochemicals, omega-3 fats, and other substances that promise to help forestall ailments ranging from aggression and attention-deficit disorder to macular degeneration, Alzheimer's disease and stroke. Penny Kris-Etherton, a nutrition professor at Pennsylvania State University, cites nuts and salmon as nutritional powerhouses, along with fruits and vegetables. Also, look for cultured beverages - yogurtlike drinks infused with "friendly bacteria" - marketed for digestive health.
I'd rather see people eat "functional foods" then just take a vitamin supplement, but I have a feeling this could go overboard. If you want the benefits of yogurt, than just eat a yogurt for Christ's sake.
11. Of the moment.

Wild blueberries (available as juice or whole berries, canned and frozen), fresh figs, beets (in salads), yams, Honeycrisp apples (a new cross between a Macoun and a Honeygold), and microgreens are hot. Among meats, duck and bison have new cachet. And sweep up the sawdust: Steak houses are suddenly chic with the 20-something set.
I love trying new apples, so I've gotta find this new Honeycrisp. Blueberries, figs, yams – mmm... bring them on. I like bison but
the missus
won't let it in the house. Duck's fine when I eat out, but I'm not going to learn how to prepare it anytime soon.
12. Cooking with kids.

Children's cooking classes are burgeoning, as are cookbooks for the younger set from cooks as prominent as Rick Bayless, who wrote Rick & Lanie's Excellent Kitchen Adventures (Stewart, Tabori & Chang, $29.95) with his teenage daughter, and Rachael Ray (Cooking Rocks! 30 Minute Meals for Kids, published by Lake Isle Press, $16.95).
Where have they been? I love when the seven-year-old bakes with me. Now the two-year-old has started wanting in.
13. Dining etiquette 101.

There was little early training at the table for many young professionals who now find themselves dining out nervously with clients (and bosses). Hence, the raft of "practice banquets" and classes offering much-needed instruction in polite public dining rituals. Classes are held at fine restaurants, on college campuses (including Philadelphia University), at career seminars, in cooking schools, and online. One elementary-dining class for children at Eleven Madison Park, Danny Meyer's deco-detailed restaurant in New York's Flatiron District, sold out within hours and filled the waiting list for a second session.
I don't care what fork you use for your salad, just keep your elbows off the table and don't chew with your mouth open, okay?
14. Bottled water.

Sales rose 20 percent in 2004, making this the fastest-growing segment of the U.S. beverage market. In addition to funky flavors, new-age waters are "enhanced" with vitamins, minerals and/or electrolytes and are being pitched to a market beyond health club addicts and joggers.
I know people that pay for bottled water look like saps for being over-charged, but if people are choosing it over soda I say go for it. I'd rather overpay for water than overpay for sugar water. And
Inquirer
, bottled water was a new food trend for maybe 1995, not 2005.
15. Trans-American wines.

Think past France and California. Wine consumption is on the upswing, and local wineries are blossoming in all 50 states. (Yes, there is wine produced in Alaska.) Look to microwineries - sometimes clustered, like Chaddsford and others in Chester County - as a source of varietal wines, filling a niche market much like that of microbrewed beers.
I'll stick with my microbrews.
16. No-cal sugar.

Little yellow packets of Splenda have joined, and increasingly are replacing, the pink Sweet'N Low and blue Equal packets on restaurant tables. The natural-tasting sucralose also is being used in almost every food category - cereals to sodas, pickles to beef jerky.
Like I said in item 7, keep this crap away from my kids and me. Sugar is only 16 calories a teaspoon, folks.
17. Specialty salts are going mainstream, thanks to celebrity chefs talking up the taste profiles of sea salts from around the world.

More food companies are adding less sodium to processed foods and many consumers are cooking from scratch (or semi-scratch), giving at-home diners more chances to sample the unique flavors of gourmet salts.
I'm still trying to work up the nerve to buy kosher salt (it comes in a mighty big box). I might be the only
Alton Brown
fan who doesn't own a box.
18. Technique.

Look for more variety in the way foods are prepared. Grilling's popularity is booming, thanks to the growing obsession for must-have outdoor "trophy" kitchens among the upper-income set. Brined meats and poultry are timesavers coming to supermarkets. And other cooking methods are surfacing, not just in restaurants and home kitchens but also for prepared foods. "'Fire-roasted' and 'charcoal-grilled' are already on the labels of canned goods and frozen vegetables," Philadelphia cookbook author Andrew Schloss says. "Look for frozen dinners identified as 'braised' and canned fruits labeled 'poached.'"
I've been curious to try brining (it's supposed to lock in the juices), but if someone wants to do it for me that's even better.
19. Flavors in favor.

Lemongrass has gone mainstream. Now sumac (a fruity-astringent spice) and yuzu (a sour citrus fruit) are showing up.Expect more exotic and highly flavored foods, from olive oils (Meyer lemon and blood orange are popular) to adult-friendly snacks (wasabi-ginger pecans). Pique timid taste buds with a dash of chile powder in your hot cocoa.
We don't buy many exotic seasonings, but I'm willing to try anything that livens things up a bit. And I love my wasabi soy beans and peanuts, so bring on those wasabi-ginger pecans.
20. Food entitlement.

Don't be afraid to ask for what you want. More and more, consumers expect their dietary needs and special requests to be met, whether motivated by allergies, a special diet, or personal preference. Most restaurants and grocery stores try to meet any reasonable demand. At the South Street BYOB Next, chef Terry Owens gets a couple of special orders a week, most often allergy-related. And a diner's recent request to substitute chicken for the scallops in one dish was not unusual, nor was it a problem.
As someone who suffers from a shellfish allergy this would seem like great news. But I also have to watch out that my meal isn't being prepared near the seafood and I don't know how to check that.
Dang, that was a long post.